---
Women in the Race
There are two notable women who forged the path for female entry into the Boston Marathon. The first was Bobbi Gibb and the second was Kathrine Switzer.
---
Roberta "Bobbi" Gibb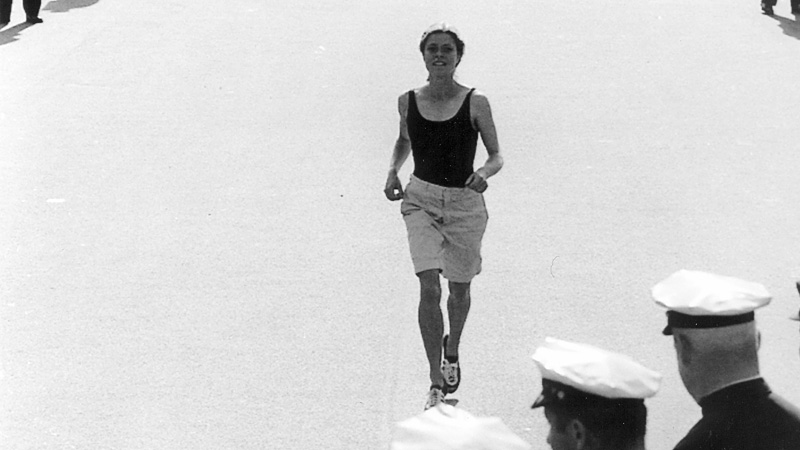 In 1966 Roberta "Bobbi" Gibb had plans to run the Boston Marathon and applied to enter, but in February she received a letter that stated she was ineligible to run because females are "not physiologically able to run a marathon." With this burning in her soul, Switzer decided to run the race to prove a point - that women were undoubtedly capable of running 26.2 miles.
At the start of the race, Gibb hid in a bush before hoping into the wave of people after the gun went off. Many spectators recognized that a woman was running, and she was greeted mostly by cheering and support.
Since Gibb didn't have a race bib on, she wasn't recognized as an official entrant to the race, but the world knew that she had started something great by completing the marathon and proving it was possible for women. She crossed the finish line in 3hrs 21mins, before nearly two-thirds of the men in the race.
---
Kathrine Switzer
The year after Gibb's brave run, Kathrine Switzer was the first woman to officially enter the race. She registered as K.V. Switzer, and race directors didn't realize she was a female. Without knowing it, race directors sent out a bib to the first female in Boston Marathon history. On the day of the race, Switzer doned bib #261 and began on the starting line with all of the men.
Just a few miles into the race, though, officials realized she was a woman and attempted to stop her. One race official grabbed her, and the media cart caught the moment. Thankfully, Switzer's coach and boyfriend helped her get away and forge ahead. She ended up completing the race in 4hrs 20mins, also finishing before many of the men who ran that day.
After these two women proved it was possible for the female body to endure 26.2 miles, race directors began considering allowing women to legally enter. Finally in 1972, five years after Switzer's run, women were allowed to officially enter the race. That year, eight women registered for and finished the race. Since then women have entered the race every year, and now the race is typically about 45% women.